2021, the price of Bitcoin seems to break a new record every five minutes, erupting from $29K to $41K in less than 9 days. Building on the experience of developing and managing one of the famous Bitcoin Block Explorers and mining pool, BTC.com upgrading its block explorer by integrating data from three mainstream currencies: BTC (Bitcoin), BCH (Bitcoin cash), LTC (Litecoin).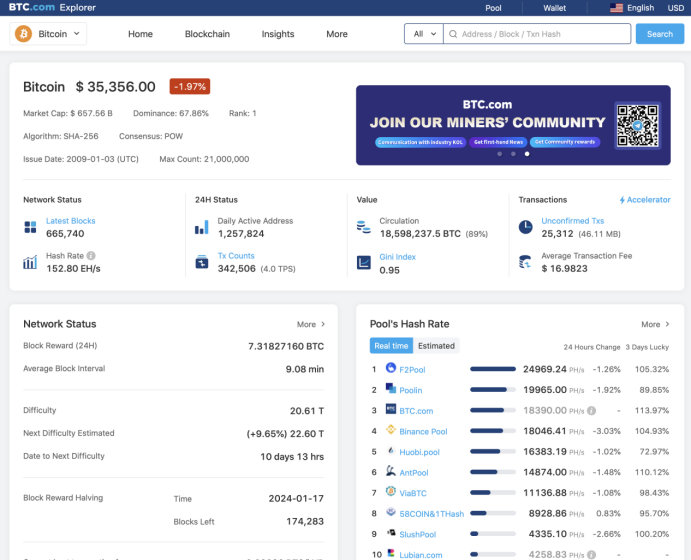 Block explorer: Tool to Discover a Blockchain's entire history
In December, 2020, Bitcoin reached 20K dollars, hitting the highest record in history and still soaring. Just a month later. on January 8th, 2021, Bitcoin soared to 41k dollars, reached a record high.
Faced with such a "crazy" upward trend, people realized that Bitcoin is regaining its lost ground. As many people start to invest cryptocurrency, especially the industry newbie, they may have such a question: banks can show transaction receipts as the intermediary agency of traditional finance, and how can we realize the inquiry and trace of transaction in so-called "open and transparent" blockchain industries without centralized institutions?
Responding to this demand, the block explorer was hereby produced.
Block explorer offers real-time updates on network activity. Normally, they feature information on blocks, transactions and fees.
The initial function of block explorer is to track an transaction of cryptocurrency in on-chain wallet. During the development of over ten years, blockchain technology have been greatly improved and the functions of block explorer are increasingly rich. From single chain to integrated multi-currencies, and from basic inquiry function to comprehensive and multi-dimensional display of visual data, block explorer has underwent the evolution from the master tool of searching specific information to the important window of block chain information.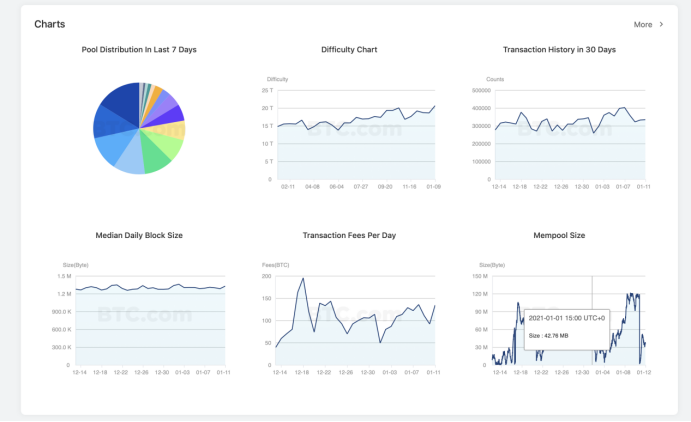 The upgraded block explorer of BTC.com has integrated three mainstream currencies to realize the data inquiries of many chains such as BTC, BCH, and LTC, etc. The visual display has been realized from the conventional data including the hashrate of the whole network, the number of active address, the unconfirmed number of transaction, the Gini coefficient, the service charge of average transaction, to the data that the users care for such as the pool shares, the size number of everyday block.
Universal Search of Multi-currencies, BTC.com Forged the Data Warehouse of Block Chain.
On January 3rd, 2009, the genesis block of Bitcoin, also known as block #0, represented its true birth. In next year, the first block explorer in the history of block chain appeared in the English-speaking community. Comparatively speaking, BTC.com founded in 2015 can be called the late comer of data service of block chain, but when it was put in service, it gained many preferences from millions of users shortly due to its advantage of more conforming to the users' habits .
Since then, BTC.com block explorer has successively supported over ten languages and provided the data service and the support for more than 200 nations and areas all over the world.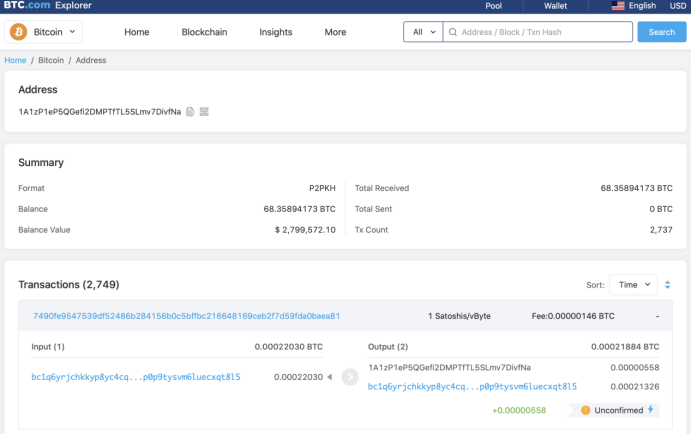 Compared with its mining pool that ranked the first place of global hashrate less than a year since 2017, block explorer was actually the earlier product of BTC.com. Within five years after it was put into service, BTC.com published many block explorer, including Bitcoin, Bitcoin cash, Litecoin, wormhole, and Ethereum, etc., and lowered the threshold of users' acquisition of block chain data.
The upgraded block explorer retained the basic data that are familiar to users, such as the rank list of mining pools, the display and predication of the difficulty of the whole network, the optimal transaction fee. And BTC.com designed the previous statistic section as the chart form that supports the downloading function of statistical chart so that the employees can also provide more direct reference for something like users' investment decisions and so on while they are conducting data research.
Besides, the exclusive screening function of data has also been upgraded into the more convenient form. The data inquiry from a single time node enabled users to make a data search within specific time and scope so that they can adjust their policy of investment and program operation in time.
The product manager of BTC.com said, "As one of the important products of BTC.com, this upgrading block explorer is only the start of our brand upgrading. The future of block explorer does not just be limited to the inquiry tool of data on chains and the visual window of data but bear more businesses related to professional data and relevant contents. And next, BTC will continue to provide customizing services like API and so on for enterprise-level users. We also welcome our users to communicate with us and propose their data demands and product suggestions."
Please click https://explorer.btc.com/btc/home to experience more and newer data on chains.
About BTC.com
BTC.com spearheads a user-driven and open financial system that has introduced over a million new users across the world to Bitcoin and other mainstream cryptocurrencies. Since launching the BTC.com block explorer in 2015, BTC.com has been at the vanguard of Bitcoin data analytics and software development. In 2016, BTC.com led the industry in innovation with the release of an open-source mining pool and wallet, which today play key roles in driving and maintaining Bitcoin's decentralized ecosystem. BTC.com is aiming to explore the bigger picture of the blockchain-related products and service currently underway.
Amber Wilson is working in England as a medical doctor. She has deep knowledge about medication, health, how to live well and genetics. She writes articles about that medication field as a part-time service which is required to needy people. In recent months, most of her writing has been in collaboration with Medic Insider.
Disclaimer: The views, suggestions, and opinions expressed here are the sole responsibility of the experts. No Empire Gazette USA journalist was involved in the writing and production of this article.